Jabsco model # 18685-0000 - 115V AC Vane Pump
FEATURES
Pump Body:
Bronze
Shaft:
Nitrile Lip Seal
Port Size:
Nitrile Lip Seal
Motor / Amp Draw:
, 115 Volts, Single Phase, TENV (Totally Enclosed Non Ventilated)
APPLICATIONS

Flow rate: 7.9 USgallons/min (29.9 Litres/min)
Self-priming from dry up to 1.5m (4.9ft)

The Jabsco rotary vane pump is ideal for pumping light oil or transferring diesel fuel. The rotor and vanes are not affected by petroleum products. It is dry, self-priming with a suction lift of up to five feet and can pump against a discharge head of up to twenty feet. The motor is rated for in applications with a total system head no greater than twenty feet and when pumping liquids with a similar viscosity to diesel fuel. When pumping light oils, the duty cycle should be no longer than thirty minutes.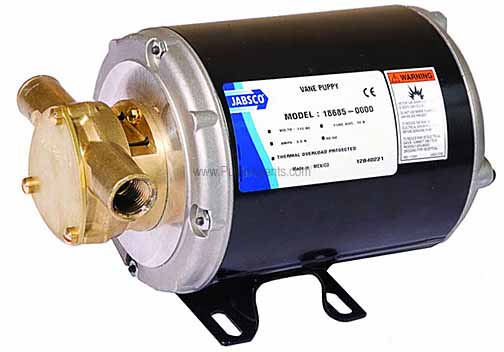 Jabsco model # 18685-0000 - 115V AC Vane Pump
Model #
Description
Price / ea.
ORDER
CAN SHIP
Parts and Accessories for Jabsco model 18685-0000
Model #
Description
Price / ea.
ORDER
CAN SHIP
Pump Service Kit :
Shaft Seal :
Motor :
Parts and Related Accessories :